SPARC Hub Management Structure
The Hub Director and the Hub Manager working under the guidance of an Executive Committee, Industry Advisory Board and a Scientific Advisory Board as shown in Figure below will manage the SPARC Hub.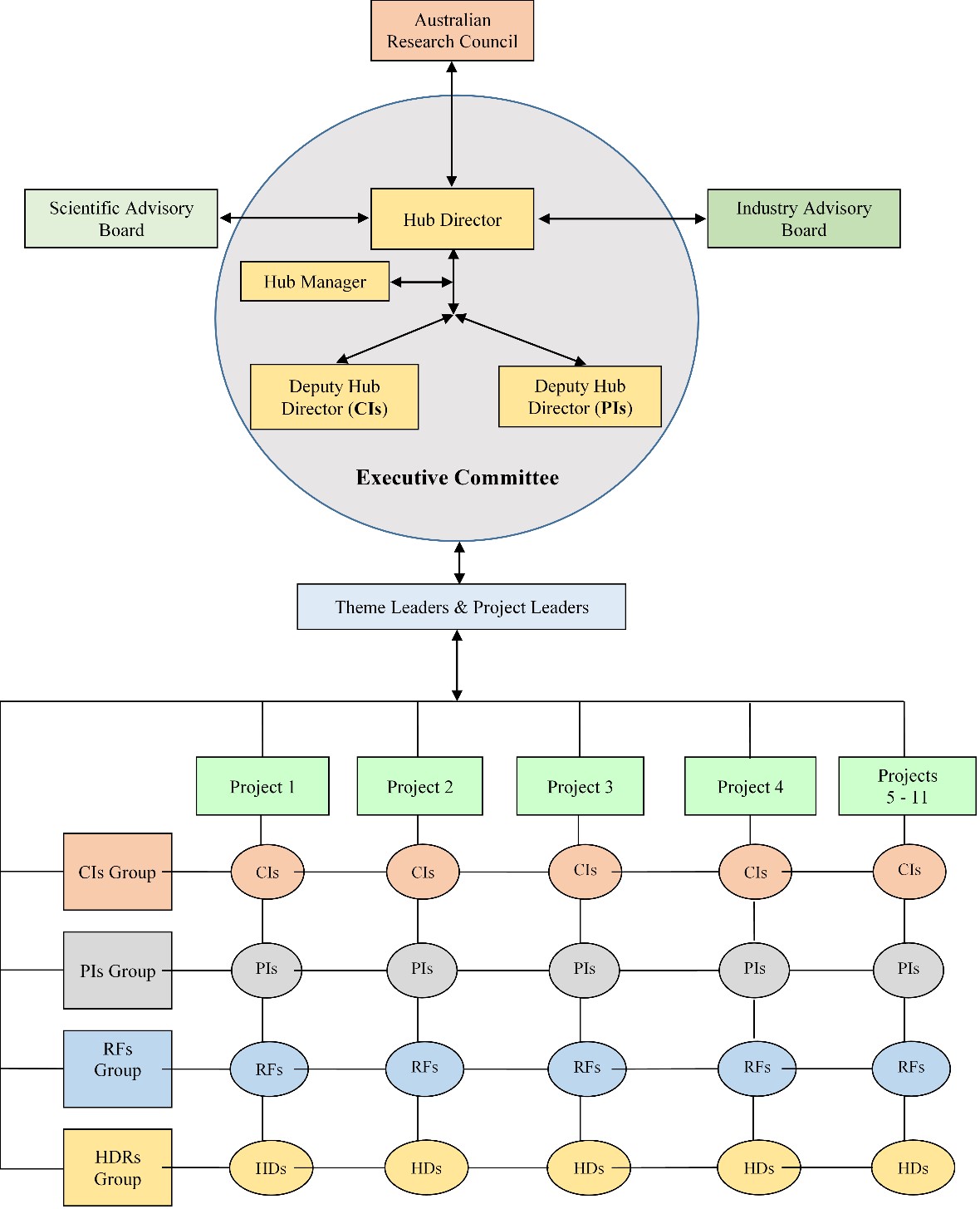 The Hub Director will be responsible for developing and implementing the research strategy and managing the research projects towards industry outcomes. The Hub Director will ensure the delivery of research, training and industry objectives in accordance with the Hub Agreement.
The Hub Manager will manage and facilitate the day-to-day operations of the Hub.
Two Deputy Hub Directors, one from Eligible Organisations (to be chosen from Key Chief Investigators) and the other from the Industry Partners (to be chosen from Key Partner Investigators), will assist the Hub Director. The Hub Deputy Directors will oversee Research Programs, network with industry partners, and promote the Hub.The Executive Committee is comprised of the Hub Director, Hub Manager and the two Deputy Hub Directors.
The Hub Director, in consultation with the Executive Committee, will make decisions including without limitation, management of funding and contributions, achievement of KPIs, reporting to the ARC and communication amongst the project parties and to third parties. The Hub Director may consult with the Scientific Advisory Board, with the Industry Advisory Board and with any other relevant stakeholder in the course of making such decisions.
Research Program and Agreements
The overall research program is divided into projects primarily based on industry partnerships and as much as possible within the scope of five themes. Project Leaders chosen from the Chief Investigators (CIs) of Eligible Organisations will lead the projects. Each project will have in many cases multiple sub-projects based on related research focus. All researchers including CIs, Partner Investigators (PIs), research personnel and PhD students will work in the sub-projects under the direction of Lead Chief Investigators (LCIs) drawn from the CIs. The figure below illustrates the inter-relationships between a project, sub-projects and project themes. Theme leaders will provide academic leadership for projects that fall in their themes.